Denver, COlorado authors shine brightly in a variety of works. They want to reach a wide range of audiences, and that is why they choose Peanut Butter publishing or Classic Day publishing. The beautiful landscapes of Colorado, with the iconic Rocky Mountains and vast plains alongside flourishing cities lead to great inspiration for grand writers.
We make sure their manuscripts get the attention they deserve. We guide them through each step to ensure that they end up with a book no less than exactly what they want. Self publishing is about authors' needs, and each step in the process is about reaching their goals. Books are an art, and we take it seriously.
Denver and its surrounding cities are the homes of great authors. They desire to have their voices heard, and we are here to show them the advantages of self publishing. Though they may be cheering for the Colorado Rockies or Denver Broncos, they still find time to write captivating stories that not only take the publishing world by storm, but the bookshelves too.
Self published Books in the Denver Area:
---
From Jews to Christians in Ancient America by David Johnson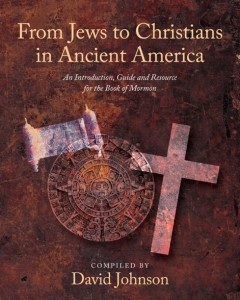 The Book of Mormon relates the record of Lehi and his family who left Jerusalem in 600 BCE (before the Babylonian invasion and destruction of the Temple in 586 BCE) and journeyed to the New World, or "Promise Land."
After relating how Joseph Smith received and translated these records (the Book of Mormon), this book will identify with authors, give an outline of the contents of each of the fifteen books, (separating religious content form the secular), and identify the various groups of people referred to in the Book of Mormon.
The various records that make up the book are also explained. Several chapters are devoted to summarizing what the book of Mormon says about such topics as Jesus Christ, God, salvation and human nature, and others.
"David's book is educational and entertaining. His explanations, graphs, and timelines make it easy to understand as well as give any reader a better understanding of the early Americans. It could easily become a good textbook for anyone with an interest in this time period."
– David Swenson
---
Quack! A Fowl Love Story by Paul Burton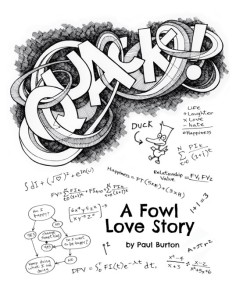 Quack! is a touching allegory written in rhyming verse about a little girl who struggles to understand the meaning of life and love. She befriends an unusual duck who unexpectedly changes her life. Readers of all ages will relate to this universally emotional and inspirational story about love and relationships.
"Really, just a delightfully told and illustrated story about a little girl discovering that sometimes life just "is what it is" and need not be completely overthought. Elena learns that it's okay to let go, trust her instincts, and love freely-with an insanely adorable duck showing her the way. Burton's charming style, in both his verse and illustrations, makes Quack! a book my kids and I will reach for over and over-discovering something that resonates anew each time."
– Julie, M.
"Paul Burton's warm and charming story Quack gently reminds us all, children and adults alike, of the magic we can find when we trust … in ourselves, in friendship, and in love. It is a story of self-discovery, letting go of fear, and surrendering a sometimes desperate need to understand and control everything. The story's simple truth is accompanied by exquisitely rendered and brilliantly arresting black-and-white illustrations. Burton juxtaposes his elegant linear draftsmanship – his extraordinary assurance of line – with the quirky, charming, and playful characters depicted, and the result is truly unique. This is a book you and your children can spend hours discovering and enjoying visually, and the simple, lyrical rhyme of the story will make it a pleasure to real aloud, over and over again. It is, truly, a timeless book."
– Tracey, H.
---
A Lifetime of Jokes, Quotes and Other Things by Vern Dayhoff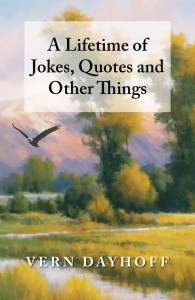 Verns collection is full of fun and he shares the pleasures of life. After graduating high school, he served as Crew Chief on B-25 Mitchell Bombers during World War II. Following the war, he returned to Savannah, Georgia where he married his first wife, Margaret.
After holding various jobs, including auto mechanic and fireman, Vern re-enlisted in the Army Air Corps, which later became the United States Air Force.
He retired from the Air Force after 20 years and went on to teach high school biology in Colorado Springs for 22 years in the same room 225…the only teacher to do that many years in the same room in the entire history of the school district.
Vern spends a lot of time traveling with his second wife, Georgia. He is especially interested and involved with birds. Vern has two daughters, three grandsons, two granddaughters and 10 great grandchildren.
---
My Beautiful Bipolar Mind: Fire on the Mountain by Lauren Greenfield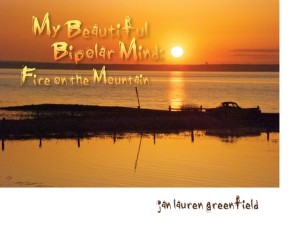 This novel is fierce in its retelling of painful events and courageous in its exploration of both Bipolar disorder and spiritual growth. This book is unique in its integration of memoir and art.
This book is for you if you have a loved one with a mental illness and you want insight, you believe in breaking down the stigma of mental illness, you are a champion of the unconquerable human spirit, or if you know that creativity and sanity dance an intricate dance.
"This book helps chart the territory of modern day madness. From divining messages on magazine covers, to the smiles of stranger in New York City parks and across the world, this book offers messages of hope by example."
– Sascha Altman DuBrul, co-founder of The Icarus Project and author of Maps to the Other Side: The Adventures of a Bipolar Cartographer