The Valley of the Sun has many independently published authors that made sure to get their books on the shelf. Phoenix is home to authors that are ambitious, well read, and determined to be on the literary map. Since Peanut Butter Publishing has experience in all genres, we can reach writers across the country, and the Phoenix metro has the warm inspiration writers need.
Authors who choose to independently publish have the opportunity to retain control over their manuscript. At Peanut Butter Publishing, we understand that you want your work to be handled with care and professionalism. We know you have a story worth telling, and we want to make sure it's done right and you are presented with a book you are proud to share with others. Our Phoenix authors aren't afraid to shine the brightest light on their work, because it's custom made to suit them and their goals.
Peanut Butter Publishing Books in the Phoenix Area:
---
Adventures of Joey and Andy Crabs by Jonathan Hillstrand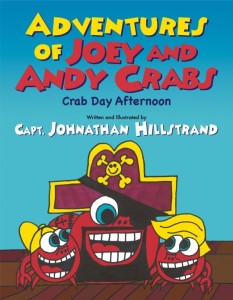 Johnathan Hillstrand from the famous TV show Deadliest Catch has published several children's books with Peanut Butter publishing!
When Joey and Andy Crabs ignore their mother's warnings, they end up in a dire situation. They learn to listen to their mother and at the same time, learn the value of having friends who look out for them. Captain Johnathan spends the fall and winter crab fishing in rough waters off the coast of Alaska in the Bering Sea. He co-captains the Time Bandit on Discovery Channel's Deadliest Catch. He started writing and illustrating his first book, The Adventures of Little Bird Pirate Dreams in the hospital after he fell off a bull filming The After the Catch.
"Captain Johnathan did a wonderful job at writing and illustrating this book. In this book he's helping teach children (in a very fun and adventurous way) to stay in school and always listen to their mothers."
– Rosa Cline
"It's great to see Johnathan use these special talents. Who knew a fishing boat captain could write and draw while sailing on the rocky waters of the Gulf of Alaska? Even more special is that these are stories that can be life lessons for children to learn from."
– Capt. Jon Burgess, Vice Mayor, Homestead FL
"Captain Johnathan has done outstanding work drawing on his experience in one of the toughest jobs on that planet; to write and illustrate a fun children's story with an underlying message. I have to admit, I was a little worried when the kids went above the surface in the crab pot! All's well that ends well…now if only the Hillstrand boys could stay out of trouble. Well done, Johnathan!"
– Kevin Ingram, Co-host, Wake Up Zone, WGFX-FM, Nashville
---
Ready, Aim, Trust by Dan Barry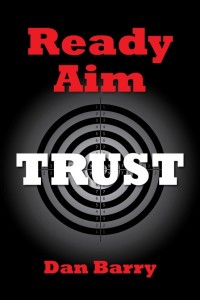 Daniel Patrick Barry is presently the Campus College Chair for the College of Criminal Justice & Security, University of Phoenix, Las Vegas Campus. This book was featured in "The Police Chief Magazine."
Instead of police administrators seeking the newest technologies, the time has come for us to improve the way we treat each other and the citizens we serve. Time spent chasing dots in staff meetings, and stressing over crime statistics might be better utilized by improving our relationships with officers and community members. Ready, Aim, Trust calls for police leaders to recommit to organizational soundness.
This book takes us through 30 years of being a cop. From rookie officer working the violent streets, to the captain overseeing a major political corruption investigation; a true cop never forgets his/her mission is to protect the good citizens from bullies.
"You will laugh, tear up, and be indignant when the details of these unique experiences give you a glimpse into human nature and the encounters those who protect and serve endure."
– Colleen Harrington
---
The Shadow of Death by Kurt A. Vomberg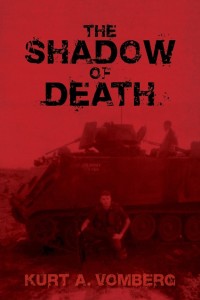 Vomberg spent one year in the jungles of Vietnam as the "point man," walking 30 yards ahead of the rest of the team and acting as their eyes and ears. His book includes vivid and often suspenseful anecdotes of his time in and out of hospitals, his close calls, and detailed battles where he witnessed the deaths of both friends and enemies.
Above all, The Shadow of Death pays tribute to the fallen and shares an inside look of the actualities of war.
"Kurt Vomberg has stated, 'I came to believe genetics, mental toughness, and the 'will' to live determined survival.' Kurt's will goes beyond the desire to live and survive, but his character is to share his experiences and values with others. I first met Kurt several years ago and have grown to admire what he stands for and his faith in God. It is that faith and those values that went with Kurt through the experiences you are going to read about. In 1970 my lottery number drawn was 300; I was not called and I did not serve, but I am thankful for men like Kurt that did. As I grow older I will always regret that I did not stand beside men like Kurt in their times of need. God's blessing goes out to those that did."
– Eric M. Bohne
---
Entitlements: Health of the American Economy and How It Affects You by George W. Anderson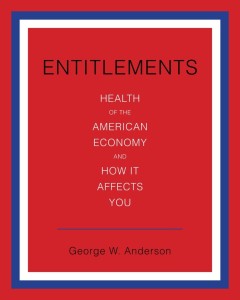 Prior to this book, there has not been a thorough presentation of entitlements and their affect on the health of the American economy. Containing both information on the various local, state, and federal entitlement programs, it also offers statistical data on the affects of these programs. Fascinating and very insightful, it is presented in an oversized format.
Be prepared for the tough questions. Will social security be there for me? Will Medicare be there for me? Am I eligible for food stamps? What other entitlement programs are available for me? Is my financial program sustainable? Am I becoming financially independent? What are my goals? What is permanent? Do I trust the government? Where will it all end? What did I learn from this book?